RSS
8 Books for a Sustainable Mind
From bees to trees to the urban jungle, these standout books from 2016 will challenge you to think differently.
Posted Dec 21, 2016
Over the past twelve months, publishers across the globe have produced groundbreaking books that both improved our understanding of the need to live more sustainably on the planet and provided us with information to help us lighten our impact. Choosing books for a 'best of' list is never easy, and those included below are just a smattering of what graced bookstore shelves in 2016. Yet each of the books on this list did at least one of three things. First, they brought new perspectives to old problems, equipping readers with practical, hands-on knowledge needed to make a real difference. Second, they stretched our ideas and assumptions about what it means to live on this planet with other species, most of whom we often ignore, forget about, or misunderstand. Third, they inspired readers through consummate storytelling, while also reminding us that we have a pressing role to play. Sustainability is the property of biological systems to remain diverse and productive—indefinitely. In these seven books, those systems encompass farms, gardens, forests, watersheds, oceans, and ultimately, our own planet's climate. From bees to trees to the urban jungle, here are some favorites from 2016.
The Genius of Birds

For decades humans have written off birds as witless and primitive creatures driven largely by instinct. In The Genius of Birds (Penguin Press), Jennifer Ackerman seeks to overturn the notion of the veritable 'bird brain' by illuminating two decades of research into bird cognition. Meeting with scientists and researchers from across the globe, Ackerman highlights the astonishing world of avian adaptability by cleanly integrating scientific discovery with lighthearted storytelling. Each chapter considers a different bird ability. Technical Wizardry, Social Savvy, and Vocal Virtuosity are just a few of the categories she explores while delving into the world of crows, chickadees, wild turkeys, and sparrows (to name a few).
With more than 10,400 bird species on the planet, (more than double the number of mammals), there are many opportunities for research. But studies in cognition, especially those of other species, are never easy. 'Genius' in the book is defined as a knack for knowing what you're doing, for catching onto surroundings. "In other words, it's a flair for meeting environmental and social challenges with acumen, and flexibility…" Ackerman writes.
Attempting to understand what Ackerman calls our "bright fellow sojourners" may bring us closer to safeguarding these clever creatures and the habitats they need to survive.
As a class, birds have been around for more than 100 million years. "They are one of nature's great success stories, inventing new strategies for survival, their own distinctive brands of ingenuity that, in some respects at least, seem to far outpace our own." That includes toolmaking, culture, reasoning, along with the ability to remember and think ahead. Birds also figure out problems, learn from one another, and demonstrate insight. Additionally, they produce ways of knowing 'beyond our ken.'
Attempting to understand what Ackerman calls our "bright fellow sojourners" may bring us closer to safeguarding these clever creatures and the habitats they need to survive. A recent Audobon report notes that half of the bird species in North America are likely to go extinct in the next fifty years, because—although smart and adaptable—many birds can no longer keep pace with the changes humans are instigating. Packed with new science and astonishing observations, The Genius of Birds will expand your appreciation for our feathered friends whether or not you're a bird enthusiast.
Victory Gardens for Bees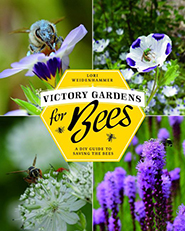 When the UN's body on biodiversity released its report earlier this year, the Intergovernmental Science Policy Platform on Biodiversity and Ecosystem Services (IPBES) stopped short of declaring a full-scale threat to the world's food supply. The report did, however, affirm that insect pollinators continue to be at risk and are "declining in abundance, occurrence, and diversity at local and regional scales in Northwest Europe and North America."
As any gardener knows, we rely on insect pollinators like bees and butterflies for the success of many crops. Bees pollinate approximately 80 percent of North American flowers and 75 percent of fruits, nuts, seeds, and vegetables, not to mention alfalfa grown to feed dairy and beef cattle. In Victory Gardens for Bees (Douglas & McIntyre), Vancouver-based artist Lori Weidenhammer sets out a compelling premise: that gardeners with even a little bit of space can plant bee-friendly gardens to support the dwindling bee population. These life-savings spaces can form a network of biodiverse bee habitats that will shelter and feed the bees. Weidenhammer points to the successful campaign from years past when governments called on citizens to plant victory gardens during World War II. Why not victory gardens for bees? And although Weidenhammer invites readers to dig up any available soil for bee-friendly garden space (including your lawn if you so desire), she also notes that anyone can begin with a pot of lavender on the front porch.

Subtitled "A DIY Guide to Saving the Bees," the book contains plant suggestions for trees, shrubs, border plants, herbs, and vegetables that benefit bee populations, along with ten sample garden layouts, a myriad of planting charts, and inspirational photographs. If you keep bees and want to feed them through the winter, or if you simply want to support your local bees with a luscious garden full of edible delicacies and fragrant flowers, Victory Gardens for Bees is your go-to manual. "Bees unite us all," Weidenhammer writes. "[They] connect us to a shared responsibility to make our yards, parks, farms, and boulevards into bee supportive environments." This book will show you how.
Rhapsody in Green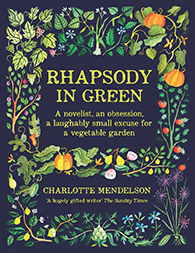 "Gardening is an exercise in optimism. Sometimes, it is a triumph of hope over experience," wrote gardening writer, Marina Schinz. This year, novelist-turned-memoirist, Charlotte Mendelson, echoed this sentiment in her "portrait of tragic obsession," Rhapsody in Green (Kyle Books). "Gardening is not a hobby," she writes, "but a passion: a mess of excitement and compulsion and urgency and desire." Part love letter, part rumination, Rhapsody in Green proves that you can have a garden even if your space is small—as long as you have the drive (or perhaps the insanity) to keep moving forward in the face of failure.
Mendelson begins the book in late winter and takes the reader through her gardening year. Her explorations question the conventional wisdom that gardeners need a lot of space to thrive. At just over seven square yards of pavement, her garden has no grass, greenhouse, or pond. Yet somehow Mendelson manages to grow more than 100 different edible plants in this postage stamp paradise, while cultivating a mouth-watering culinary lineup. On any given year, her harvest includes "eight or nine types of tomato; five varieties of kale; three kinds of raspberry, red and gold; various sorrels; globe, Jerusalem and Chinese artichokes; 10 kinds of lettuce and chicory, and another 10 of Asian greens; seven or eight types of climbing bean, mostly Italian; about 50 herbs and a few flowers, all edible." Mendelson also harvests eight different kinds of berries, along with cherries, grapes, rhubarb, apples, figs, quinces and currants.
Yes, she does mind that "there is no space for a nut tree," but notes that her garden is a source of "infinite happiness and deep peace," providing her with flow, that special something that takes her outside herself. Readers who enjoy hearing about the highs and lows of gardening told in an entertaining narrative will devour Rhapsody in Green, no doubt inspired by the author's obsession to grow as much as possible in what she calls "barely a garden."
The Hidden Life of Trees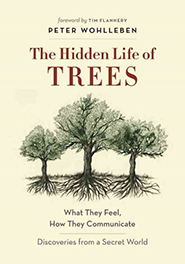 The inclusion of Peter Wohlleben's book, The Hidden Life of Trees (Greystone Books), in this lineup will surprise no one who frequents bestseller lists. A New York Times bestseller since its release earlier this fall, the book has garnered stellar reviews for a subject that might otherwise be confined to scientific journals and forestry notebooks.
Wohlleben's appeal? A forester who has spent the last decade observing trees in Eifel, Germany, where he manages a small woodland, Wohlleben illuminates a world once the territory of storybooks: a place where trees talk to one another, observe rules of etiquette and collaboration, and tend their young and sick. A place where trees warn one another of dangers and opportunities and work together to thrive.
"Under the canopy of trees, daily dramas and moving love stories are played out. Here is the last remaining piece of Nature, right on our doorstep, where adventures are to be experienced and secrets discovered."
Underpinning his observations of tree ecology and behavior is groundbreaking scientific research from the University of British Columbia, Aachen University, and the Max Planck Society. Wohlleben weaves facts into his narrative with a deft hand, and his straightforward style belies the complex and paradigm-shifting reality that trees are social beings. "Under the canopy of trees, daily dramas and moving love stories are played out. Here is the last remaining piece of Nature, right on our doorstep, where adventures are to be experienced and secrets discovered."
Yet despite his gentle encouragement to embrace this knowledge and see forests differently, Wohlleben acknowledges that humans and trees (and animals, too) are in things together. Far from suggesting we stop using trees for everything from paper to housing construction, Wohlleben asks that we simply do it differently. "After all, we are also a part of Nature, and we are made in such a way that we can survive only with the help of organic substances from other species…The real question is whether we help ourselves only to what we need from the forest ecosystem, and…whether we spare the trees unnecessary suffering when we do this."
The book claims to change the way readers will view the forest on their next walk in the woods — and that's exactly what it does.
Rancher, Farmer, Fisherman: Conservation Heroes of the American Heartland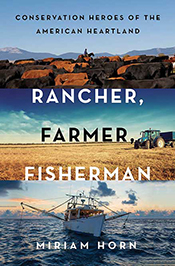 While negotiating the Louisiana Purchase in 1803, Thomas Jefferson stressed the importance of securing American interests in the Mississippi River Watershed. More than two hundred years later, Miriam Horn notes the importance of this watershed and its centrality to the American story in her book, Rancher, Farmer, Fisherman: Conservation Heroes of the American Heartland (W.W Norton & Company). By profiling of some of the region's conservationists, she also challenges pervasive notions about America's environmental values.
Unfolding as a journey down the Mississippi River, Rancher, Farmer, Fisherman tells the stories of five people working on the front lines of America's changing climate: Montana rancher and former rodeo champion, Dusty Crary, who has spent countless hours forging alliances between cattlemen, federal agencies, hunters and environmental groups; Justin Knopf, a fifth generation farmer, who applies the latest advances in microbial soil science, no-till and crop rotation strategies to control pests, build soil quality, and fight erosion; Merritt Lane, CEO of the Canal Barge Company, who is helping to lead a $50 billion restoration of Louisiana's vanishing wetlands; Sandy Nguyen, who has devoted her life to helping fishing families and ensuring their interests are represented; and Wayne Werner, a fisherman who helped transition the commercial red snapper fishery to sustainable management practices.
Through these five profiles, Horn highlights the work being done by people who depend on the regions ecosystems for their livelihood. "Their collaboration with other species and geologic forces overturn the tragic zero-sum story: that meeting human needs invariably requires sacrificing nature, and vice versa," Horn writes. And her subjects haven't just figured out how to minimize damage, "Their productive work has itself become the path to restoration…" For anyone interested in inspirational stories from unexpected locales, Rancher, Farmer, Fisherman is a worthy read.
Eyes on the Street: The Life of Jane Jacobs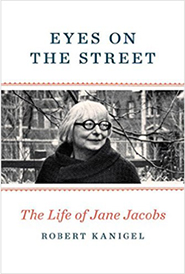 In his new biography of Jane Jacobs, Eyes on the Street (Alfred A. Knopf), author Robert Kanigel ponders over the puzzle that was the activist, author, mother, and speaker famously known for her contributions to urban planning. Born in Scranton, Pennsylvania, in 1916, Jacobs spent her early working life as a journalist writing for publications like Iron Age, Architectural Forum, and Fortune. When asked by her employer to deliver a speech in his stead, she was apparently surprised to discover people were interested in what she had to say. From that first presentation about the sterility of suburbia to being heralded as "the most influential urban thinker of all time," Jacobs emerged as a leading thinker who has shaped generations.
Author of seven books, Jacobs was perhaps best known for The Death and Life of Great American Cities, which responded to the "urban renewal" efforts of the late 1950s in the United States. These efforts saw sanitized suburban neighborhoods and high-rise housing projects replacing vibrant communities and the "intricate ballet of city streets" that Jacobs felt needed safeguarding.
A phenomenal woman who deeply affected the trajectory of urban planning in the U.S. (and later, in Canada), Jacobs accomplished all of this while raising three children and "engaging at home and on the streets in thousands of debates—all of which she won."
In addition to her writings, Jacobs is well known for organizing grassroots activities to block projects that would damage or destroy local neighborhoods (including proposed expressways through Greenwich Village and Toronto's Spadina neighborhoods). In opposing both of these projects, Jacobs asked whether planners were building cities for people or cars—a question dismissed by her opponents at the time, but which now has prophetic overtones. A phenomenal woman who deeply affected the trajectory of urban planning in the U.S. (and later, in Canada), Jacobs accomplished all of this while raising three children and "engaging at home and on the streets in thousands of debates—all of which she won."
In pondering her popularity and influence, Kanigel asks how so many people came under her spell. She was not formally educated in urban planning, nor did she hold any certifications in the area. Yet she saw things others didn't. "Her words expressed ideas," Kanigel writes. "And those ideas had a quality and resonance that were new and fresh and thrilling." Thankfully her biography is no different, capturing the life and times of a revolutionary woman whose unique perspective continues to influence us today.
A Farewell to Ice: A Report from the Arctic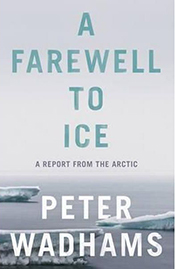 From the world authority on sea ice, this report on the state of Arctic gives us a chilling look at the warming planet from the location where global change is the most drastic. Penned by longtime polar researcher, Peter Wadhams, A Farewell to Ice (Allen Lane) is a wake-up call for anyone concerned about the planet's rapidly disappearing sea ice.
Arriving at this subject unwittingly, Wadhams notes how he and his colleagues rapidly found themselves becoming climate change specialists as their subject, the Arctic, began altering before their eyes. In the thirty years between 1976 and the early 2000s, he noted the region's sea ice had thinned by more than 40%. "In September of 2012, sea ice covered only 3.4 million square kilometres of the Arctic Ocean's surface, down from 8 million square kilometres in the 1970s."
The Paris Agreement gives Wadhams hope, as do advances in alternative energy that would contribute to decisive action on the global climate situation.
In addition to heralding these changes, the book carefully describes the magic of ice, along with its history here on Earth. Polar ice is the Earth's own air conditioning system, reflecting solar radiation ten times more effectively than open water. Unfortunately, open water is taking over, and that means an increasingly warmer planet at ever increasing speeds. The most frightening revelation Wadhams illuminates is the potential release of methane gas, stored for many thousands of years in the Arctic tundra. If we fail to prevent this catastrophe, Wadhams foresees fires, floods, droughts, and storms, the likes of which we have never seen—and all within many of our lifetimes.
The Paris Agreement gives Wadhams hope, as do advances in alternative energy that would contribute to decisive action on the global climate situation. Yet these actions must happen immediately, Wadhams says, or our children and grandchildren will suffer. He writes, "Overwhelmingly, I feel that this is a spiritual impoverishment of the Earth as well as a practical catastrophe for mankind."
Being a Beast: Adventures Across the Species Divide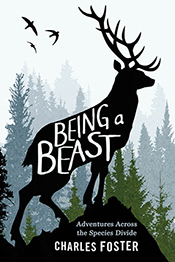 While many of us strive to give our children memorable experiences, Charles Foster goes to extremes. Although admittedly not his prime concern in Being a Beast (Metropolitan Books), an experiment-based memoir that seeks to bridge the human-animal divide by living like animals, one can only imagine the rapture of eight-year-old Tom when daddy dug a hole and invited him to crawl inside.
The book is a startling journey into what it means to be human—and moreover what it doesn't. Over the course of his journey, Foster adopts the habits and habitats of a badger, an otter, a deer, a swift, and a fox, to try and paint a picture of how animals experience the world. Although humans are very good at looking at animals from a scientific perspective, explorations into the animal world through this type of literary adventure have barely begun. Says Foster, "I want to know what it is like to be a wild thing." And later, "To learn what it is like to shuffle or swoop through a landscape that is mainly olfactory or auditory rather than visual."
His attempts are humorous and eye opening. From eating worms to plunging into icy rivers (to digging and occupying that hole in the ground), Foster lets us see and experience animal existence while still acknowledging the impossibility of such a task.
In the book's prologue, he tackles those lurking pitfalls of nature writing, anthropomorphism and anthropocentrism, while confessing that his own work fails to avoid them, too. Nevertheless he attempts to do better. Immersing himself in the discoveries of neuroscience and the physiological literature to understand how his subjects experience the world, he then immerses himself in their world.
Lucky for his readers, he takes us along for the ride.

~~
Shannon Cowan is an author, editor, and teacher who lives on six acres of land with her husband, daughters, and backyard chicken flock.
~