RSS
Electric Car Traveling 10,000 Miles in Mongol Car Rally
This couple is driving a plug-in car from UK to Russia to prove the time is right for electric vehicles.
Posted Jul 20, 2017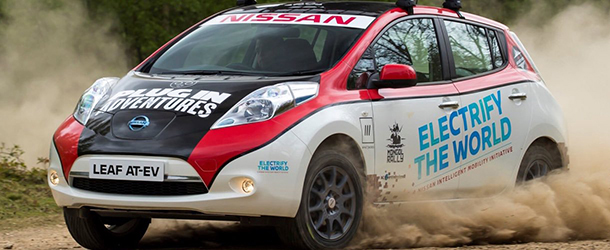 While some people wonder if an electric vehicle will get them across their state in good time, Chris Ramsey of Plug-in Adventures is embracing the technology by driving 10,000 miles in his Nissan Leaf.
On July 16, Ramsey and his wife Julie made history as the first participants to begin the Mongol Car Rally in an electric car. The rally—which has been described as the greatest adventure on earth—is a non-competitive adventure that originated in 2004. This year's line-up includes more than 200 teams from countries all over the world.
Starting in Chichester, UK, the duo will travel all the way to Ulan-Ude in Eastern Russia. Their trip will take them from six to eight weeks, and while gas stations are iffy in some of the route's more remote locations, superchargers are virtually non-existent.
This doesn't faze Ramsey. "Over the years I've charged in some weird and wonderful places. What you find when you turn up with an electric car is that everybody is so intrigued to find out more about the car that they're quite happy to let you charge."
Ramsey has equal confidence in his vehicle of choice, the Nissan Leaf, which he's been driving since 2011. For the rally, he'll be opting for a Nissan Leaf AV-EV (all-terrain electric vehicle). Ramsey estimates they'll get about 110 miles to a charge, which "adds to the challenge of doing the adventure."
To get his Leaf road-ready, Ramsey—with the help of engineers at RML Group—has made some modifications. These include raising the vehicle's suspension, protecting the bottom of the vehicle, and ripping out the rear seats to save 34kg of weight. They've also added a roof rack and rally tires. "I chose the Nissan Leaf for space and comfort, and just for reliability," Ramsey says. "It has proven just first class for us."
While the rally has no set route or rules, it does ask participants to raise at least £1000 for charity. So far Plug-in Adventures has raised £3,000, much of which will go to the World Wildlife Fund in Scotland, and the rally's official charity, CoolEarth.
More than just an adventure, the rally will help Plug-in Adventures publicize the capabilities of electric vehicles. Along with other promotions around the world, the Ramseys hope their journey will encourage more people to choose this clean, economical driving option to help combat climate change.
They're not alone in their enthusiasm. According to EVvolumes.com, electric vehicle sales have more than tripled since 2013 and are continuing their upward trajectory, thanks in part to the doubling of available charging stations worldwide. North America saw the biggest jump in sales in the first part of 2017, with more than a 50% increase.
The popularity of plug-in cars means that thankfully, you don't have to drive 10,000 miles to appreciate the scope and flexibility of EV technology. You can try one out today by calling your local dealer.

Pin for later:

Related Reading